Our Vision
Our Vision and Values
Our vision is to "experience success together" or in Māori, "piki kotahi ki te taumata" which refers to climbing the mountains to reach the summit, with everyone experiencing success in unison (as one).
Students, akonga, are at the heart of everything we do, and Westland High School's people, place and learning environment are all designed to foster the wellbeing and growth of students.
Our purpose is to join with our community to create the very best education for our young people.
Our staff are educational leaders that are dedicated and passionate about their roles. Furthermore, we see the community as being a necessary and valued partner in the learning process.
At Westland High School, we recognise that learning takes place both inside the walls of the classroom and further afield.
Our learning process is holistic, individualised, deeply engaging and we see learning as being an unending, life-long journey.
Our place, the high school campus itself, is an innovative learning environment and one which is designed to provide a safe space for students to develop their confidence and sense of self, gain new skills, and broaden their worldview and understanding.
Our Strategy:
Holds our students success at its centre
Reflects our values
Is holistic
Reflects Maori and Western worldview
Our Values are reflected in all we do:
Manaakitanga –

Uplifting and empowering ourselves and others.

Whanaungatanga –

Actively building and contributing to positive connections with others.

Rangatiratanga –

Developing leadership with confidence, respect, self-determination and teamwork.

Kaitiakitanga –

Promoting guardianship and preservation of the school values, learning and the environment.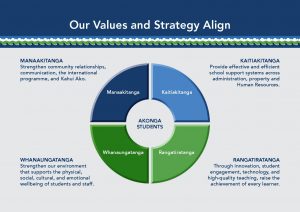 Upcoming events
Friday 10 Dec
10th December Last day of term 4.
Friday 10 Dec
10th December Junior and middle school prizegiving takes place at the Regent theatre. Middle School 9am. Junio...
[Read more]
Thursday 2 Dec
2nd of December Teacher Only Day. No School. This is a day set by the Ministry of Education and will be coveri...
[Read more]
Monday 29 Nov
Westland Anniversay Day holiday. No school.
Monday 22 Nov
22nd November Senior Prizegiving takes place at the Regent Theatre at 6pm.
Monday 25 Oct
Labour day holiday. No School.
Monday 18 Oct
18th October. Term 4 begins
Friday 1 Oct
1st October. Last day of term 3.
Friday 24 Sep
24th September the Westland High School Ball takes place. More information regarding venue and other details w...
[Read more]
Monday 13 Sep
13th September to 20th September is Te wiki o te reo Maori / Maori language week. Visit https://www.tewikioter...
[Read more]
All events