Prize Givings / celebrating success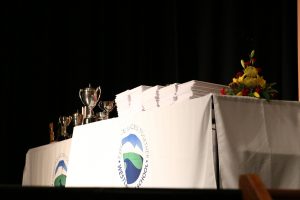 Whāia te iti kahurangi, ki te tuohu koe, me he maunga teitei.
Seek the treasure that you value most dearly, if you bow your head, let it be to a lofty mountain.
This whakataukī is about perseverance and endurance. Refusing to let obstacles get in your way while striving to reach your goals.
Congratulations to all of the recipients of awards at the 2019 prizegivings.
Senior Prizegiving (Years 11 to 13)
Middle School Prizegiving (Years 9 to 10)
Junior School Prizegiving (Years 7 to 8)
Thank you to our sponsors and supporters of this years awards ceremony.
Upcoming events
Friday 10 Dec
10th December Last day of term 4.
Friday 10 Dec
10th December Junior and middle school prizegiving takes place at the Regent theatre. Middle School 9am. Junio...
[Read more]
Thursday 2 Dec
2nd of December Teacher Only Day. No School. This is a day set by the Ministry of Education and will be coveri...
[Read more]
Monday 29 Nov
Westland Anniversay Day holiday. No school.
Monday 22 Nov
22nd November Senior Prizegiving takes place at the Regent Theatre at 6pm.
Monday 25 Oct
Labour day holiday. No School.
Monday 18 Oct
18th October. Term 4 begins
Friday 1 Oct
1st October. Last day of term 3.
Friday 24 Sep
24th September the Westland High School Ball takes place. More information regarding venue and other details w...
[Read more]
Monday 13 Sep
13th September to 20th September is Te wiki o te reo Maori / Maori language week. Visit https://www.tewikioter...
[Read more]
All events